Ahmet Altan
"With the politically motivated verdict, a critical commentator of the events in Turkey was deprived of his freedom. Ahmet Altan has repeatedly clearly taken position regarding the situation of the Kurds as well as regarding the discussion in terms of the genocide of the Armenians. His fate, unfortunately, exemplifies the situation of many independent journalists in increasingly authoritarian or also dictatorial societies."
From the statement of the jury on the occasion of the Geschwister-Scholl-Award 2019 to Ahmet Altan.
Biography
Ahmet Altan, born March 2 nd , 1950 is a Turkish journalist and author. A working journalist for more than twenty years, he has served in all stages of the profession, from being a night shift reporter to editor in chief in various newspapers. He was born 1950 in Ankara, Turkey to the notable journalist and writer Çetin Altan as the first of two sons. His brother Mehmet Altan is also a journalist, writer and university professor of economy politics. In addition to having written columns in several Turkish newspapers, including Hürriyet, Milliyet and Radikal, Altan has produced news programming for television. He was fired from Milliyet after writing a column on 17 April 1995 titled "Atakürt", which presented an alternate history of Turkey as a Kurdish state ("Kürdiye") in which ethnic Turks are oppressed and forced to assimilate. In 2007 he became the founding editor-in-chief and lead columnist of Taraf, a daily Turkish newspaper, and remained in the position until his resignation in December 2012. In September 2008 when Altan published an article titled "Oh, My Brother" dedicated to the victims of the Armenian Genocide, he was charged under Article 301 of the Turkish Penal Code for "denigrating the Turkish nation". The judicial claim was initiated by the far-right "Great Union Party." On December 14, 2012, Ahmet Altan resigned his post as editor-in-chief of Taraf. With him stepped down his assistant editor Yasemin Çongar, and Neşe Tüzel. The next day, the three departing journalist were joined by columnist Hadi Uluengin.
Seeking for Justice
During Turkey's media purge after the failed July 2016 coup d'état on September 23, 2016, Altan, was arrested. He is accused of sending "subliminal messages" to encourage 2016 Turkish coup d'état attempt planners. Altan was sentenced to aggravated life imprisonment. Although the Supreme Cassation Court decided to overturn the sentence and release Ahmet Altan, the Supreme Court's decision was rejected by the lower courts. At the retrial on 8 October 2019, the continuation of his detention was ordered.
His Work and Engagement
In September 2017, while banned from written communications, Altan produced an essay The Writer's Paradox in which he says: "I am writing these words from a prison cell ... But wait. Before you start playing the drums of mercy for me listen to what I will tell you ... They may have the power to imprison me, but no one has the power to keep me in prison. I am a writer." The essay was published on 18 September 2017, on the eve of Altan's trial: in English by The Society of Authors (translated by Yasemin Çongar) and in the original Turkish by English PEN. As the trial began, many authors spoke out in support of Altan. Neil Gaiman said "I hope that everyone who can read, whatever their politics, reads Ahmet Altan's response to his imprisonment. Repressive regimes hope that if they lock up writers they are also locking up ideas. This will always fail." And Joanne Harris said "Writers exist to question, to challenge, sometimes even to ridicule the status quo. For a government to imprison a writer for doing this is to attack, not only freedom of speech, but freedom of the imagination. It is a backward, oppressive and ultimately futile gesture that can only lead to greater and more damaging social unrest." On 16 February 2018, Ahmet, along with his brother Mehmet, was sentenced to life imprisonment. From prison, he wrote notes he gave to his lawyers and published his memoirs under the title "I Will Never See the World Again", translated in English by Yasemin Çongar. Some of his books were published in German, so "Wie ein Schwertstreich" or "Ich werde die Welt nie wieder sehen". This year Ahmet Altan is awarded the 40th Geschwister-Scholl Prize. In the jury's statement it says: "Ahmet Altan's texts show in a calm, clear way what is happening in Turkey at the moment. Above all, however, the reports testify to a great steadfastness, to the decision to be stronger than the interrogators, prosecutors and judges despite all the privations."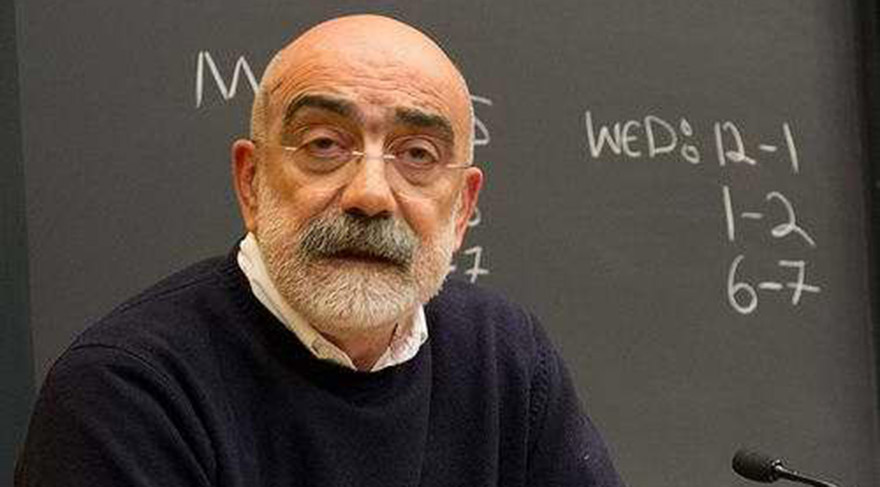 Ahmet Altan and Turkey's revolving prison doors
Mr Altan was locked up in the wake of the failed coup in 2016. This month the writer was released—and rearrested
"I HOLD OUT my hands and they handcuff me," Ahmet Altan wrote in his prison memoir, recalling the moment a court sentenced him to life without parole on trumped-up terror and coup charges. His crimes, according to prosecutors, included sending "subliminal messages" urging the overthrow of President Recep Tayyip Erdogan's government before an abortive coup in 2016. "I will never see the world again," wrote Mr Altan (a line which gives the book its title). "I will never see a sky unframed by the walls of a courtyard."
Read More